According to research, around a third of Australians regularly snack and a similar number say they sometimes replace a main meal with a snack. But recent research found 30% of us have put on weight since Australia's coronavirus lockdown began, with millennials most likely to be snacking more and exercising less. I recently discussed the pros and cons of snacking on my 3AW radio segment with Dee Dee.
Why do you snack? Are you hungry, bored, stressed, depressed? Is it because you are surrounded by snack foods – in the pantry, the fridge, the freezer, on ads, in fast food outlets, where you work or shop? And when do you snack? All day or are you a night snacker?
Of course the big issue is…what are your typical snacks…are you a fruit, carrot stick and yoghurt with water snacker? Are you a dried fruit or nut nibbler? Are you a 'can't resist' choccy bikkie or muffin eater; a lolly sucker; or a savoury snacker, ie chips, crisps, dry biscuits and cheese; or are you a stand-at-the-pantry-or-fridge snacker, ie peanut butter from the jar, milo from the tin, spoonfuls of ice cream straight from the freezer? Or are you a Macca's snacker?
Do you consider drinks as snacks? Smoothies, milk shakes, soft drink, fruit juice, lattes, wine, beer?
WHAT YOU CHOOSE TO SNACK ON MATTERS
Unfortunately, 'discretionary foods' – like chips, chocolate, biscuits and confectionary – make up over a third of too many Australian's daily kilojoule intake.
While you may get a quick energy burst as your blood sugar levels rise from some of these foods, that spike will fall quickly, often leaving you tired, drained, and finding it hard to concentrate. We also know that eating a diet high in ultra-processed snack foods can have a negative impact on your mood making you feel more depressed.
But let's start at the beginning. Do we really need to snack? Isn't eating three meals a day enough?
WHO NEEDS TO RELY ON SNACKING?
The answer to whether we need to snack depends on the individual, your lifestyle, job, age, diet, health and your level of physical activity.
The key groups who may need to snack include children with small stomach capacities; growing teenagers, especially those who play a lot of sport or are super active; athletes and those in physical jobs who need plenty of energy, and even those who are in jobs that require a great deal of focused concentration.
Also, people who may have lost their appetite; those who are unwell and undergoing medical treatments who can't face a big meal; and those with medical conditions who may need smaller, more frequent meals, such as people with diabetes who need to regulate their blood sugar levels.
MAKE GOOD SNACKING CHOICES
Aim for a portion size of no more than 600-800kj; foods high in fibre (try for 3g), low in fat and sugar, with at least 5g protein. Or simply don't bring less healthy snacks into the home (or office – more organisations are now serving fresh fruit rather than biscuits or muffins at meetings).
Here's a few nutritious snack suggestions:
hard boiled egg;
brown rice crackers with avocado dip (half an avocado, mashed, with a dash of lemon juice and tabasco sauce);
slice wholegrain toast with peanut or cashew nut butter (ideally made with nothing but ground, roasted nuts);
one serve of fruit eg 12 grapes or 12 strawberries or 1 apple/pear or 2 kiwifruit;
a handful of mixed nuts;
one tablespoon sultanas and six raw almonds;
spicy roasted chickpeas;
small tub natural yoghurt or tzatziki (yoghurt dip) and vegetable crudités.
TIPS TO AVOID MINDLESS SNACKING
Try to eat regular meals, so you don't end up hungry and craving food when the only options are the ones you shouldn't be eating – like biscuits or chips or chocolate.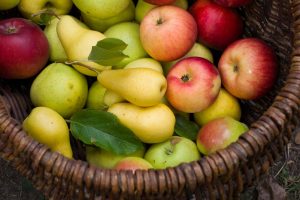 Put nutritious food front and centre. Research published in Appetite Journal investigated the old saying 'out of sight out of mind' when it comes to food cues and cravings and confirmed that exposure to food cues (ads, nearby take-away stores, having not-so-healthy choices on display) reliably elicited strong cravings – it's why supermarkets like to display confectionery near the checkout.
By simply putting all the healthy food choices – like fresh fruit, nuts, yoghurt and crudités where you can see them, like on the kitchen counter or at the front of the fridge at eye level, you will be more likely to select them when you need a snack. For example, try cutting up fruit into pieces and placing them in clear containers, in the front of the fridge, so it's easy to reach for a portion, rather than search for a pack of chips or sweets.
Hide them away: If you have to have some not-so-nutritious snacks, find a pantry hideaway (bottom, at the back) for all your treats to ensure they're not staring at you every time you open the door. And when you bake a dessert or cakes for the family, make just enough for a sensible portion for all – no leftovers! For things like muffins, cook and freeze individually; if you bake biscuits, cook only a limited number and freeze the rest of the dough to cook later. That way you will be less tempted to overindulge, and more inclined to eat what's readily available – like those fruit pieces, nuts, or vegetable crudités and plain yoghurt.
Think small and serve snacks on a plate. And try to avoid distractions when you are eating snacks, like watching TV, a computer, tablet or phone. Eating from a plate means you focus on the food (rather than the screen) – you can see exactly what and how much you are eating, so you are less tempted to overindulge.
If you must have an occasional treat, select individually-packaged, portion-controlled options.  Even though larger packs can be more economical, research reveals that you may end up eating 40-50 per cent more from a large pack. If you prefer to buy large packs, dispense them into smaller portions as soon as you get home (then put them out of sight).
Karen Inge. 
http://www.kareninge.com/hot_topics/why-snack-the-up-and-down-side/